RHINO® E – high end flat bed embossing system designed for short runs
® ® "With the launch of RHINO® E, Pantec is complementing its RHINO® Product Portfolio, to give the label industry the answer for the growing demand for short runs of highly embellished labels." This is how René Abächerli summarizes the background for the new machine system. He adds:" RHINO® E is perfectly suited for label printers, who have to add embellishment capabilities to their offerings. This embellishment could make the difference for the product between being picked up on the shelf or being ignored by the consumer."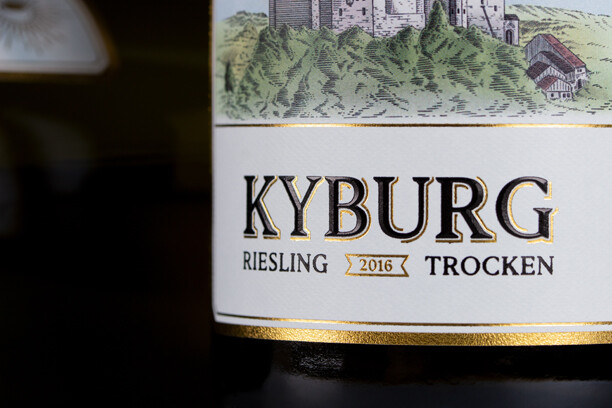 Wine label with 2 foils produced on RHINO® E. The black foil is surrounded by very fine, golden lines combined with 3D embossing.
By restricting the stroke frequency to 18'000 per hour (RHINO® S can operate up to 30´000 strokes/hour), it was possible to build RHINO® E lighter and leaner. This stroke frequency still allows a web speed of up to 85 m/min, depending on the design – a speed well accepted for short runs.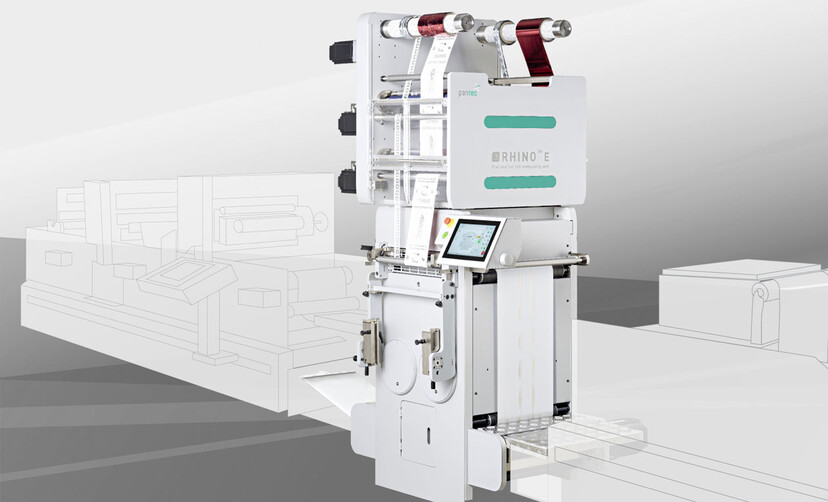 RHINO® E is recommended for printers which are either specialized in short production runs or wish to include embellishment capabilities in their portfolio.
Innovative tool concept
The tooling cassette of RHINO® E has been designed to accommodate frequent tool changes typically for short runs. There is no need to cut the foil or the substrate when changing the tooling, regardless of whether just a simple flat hot foiling or a more complex embossing tools are being used.

Designed for efficiency
RHINO® E still has the option to foil across the web, which opens up the opportunity to do complex multi-foiling designs often required for high value products. In addition, RHINO® E can be equipped with two foil levels to maximize the foil saving, because the foils can be advanced in different steps.

An intuitive, user-friendly HMI makes it easy for the operator to run the RHINO® E. Beside the normal job data setting and storing, it calculates the optimal foil saving based on the design parameters of the label.
Do you want to find out if RHINO® E fits your requirement?
We are looking forward to get in touch with you!