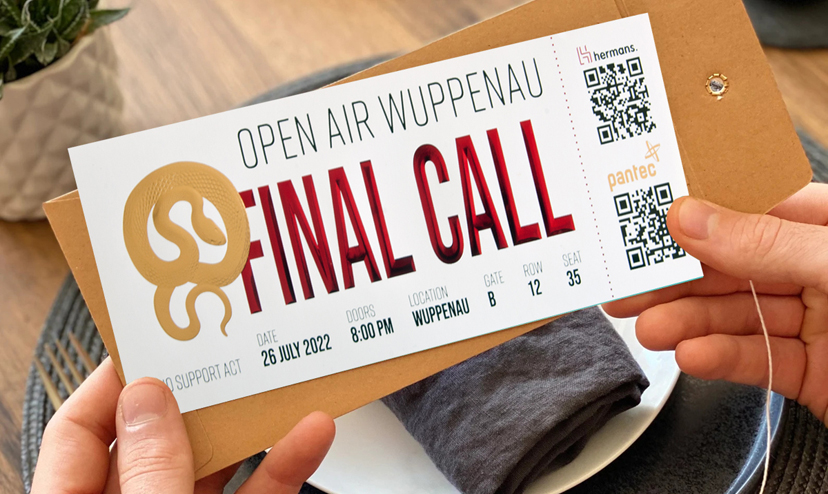 FINAL CALL - Attractive foil-only event ticket with counterfeit protection
Product counterfeiters can be found wherever profit is generated. This applies to products as well as events. One of the best examples is the 2022 Champios Leage final in Paris. The counterfeit tickets caused such chaos that the kick-off of the final was delayed. Apart from the financial aspect, the cheated fans were also denied the pleasure of watching the final live in the station.
Hot foil stamping enables the cost-effective application of security features to prevent counterfeiting. But that's not all: the high-quality look of the foil stamping visually enhances the ticket - making it a business card for the event.
Together with the tool manufacturer Hermans, Pantec has designed a ticket that, among other things, creates a high-quality impression through haptic effects and makes the production of counterfeits massively more difficult through supplementary microstructures. No preprint is needed for production, the ticket consists only of embossing foils.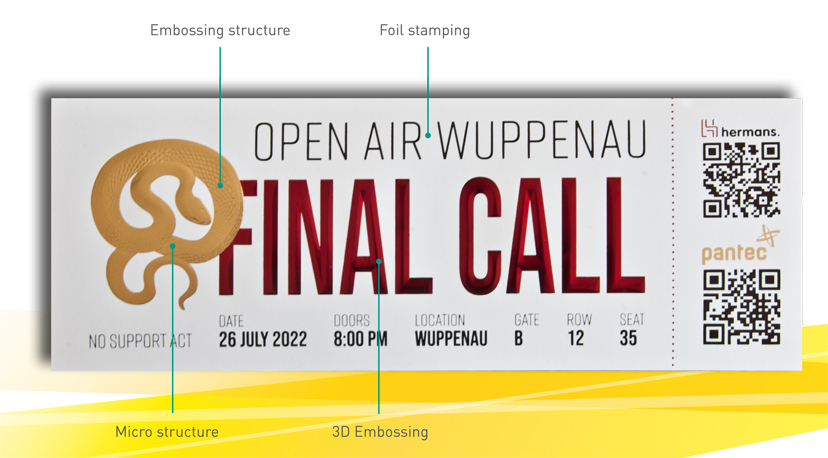 Micro Embossing - the hard to copy eye catcher
With micro embossing, very fine patterns are worked into the embossing tool. This distorts the metallised surface of the substrate and creates impressive, optical reflection effects. Such an effect is difficult to copy and an eye-catcher at the same time.

Production
Offline Production | Embellishment with Pantec RHINO®
Partners

Foil: Leonhard Kurz
Tools: Hermans

The FINAL CALL ticket was created on a blank cardboard roll with hot stamping foil - without a preprint. It is a four stroke design produced with the RHINO® S 510. Thanks to the high stroke rate of 30,000 strokes per hour, a production speed of 50m/min can be achieved even with a four-stroke design.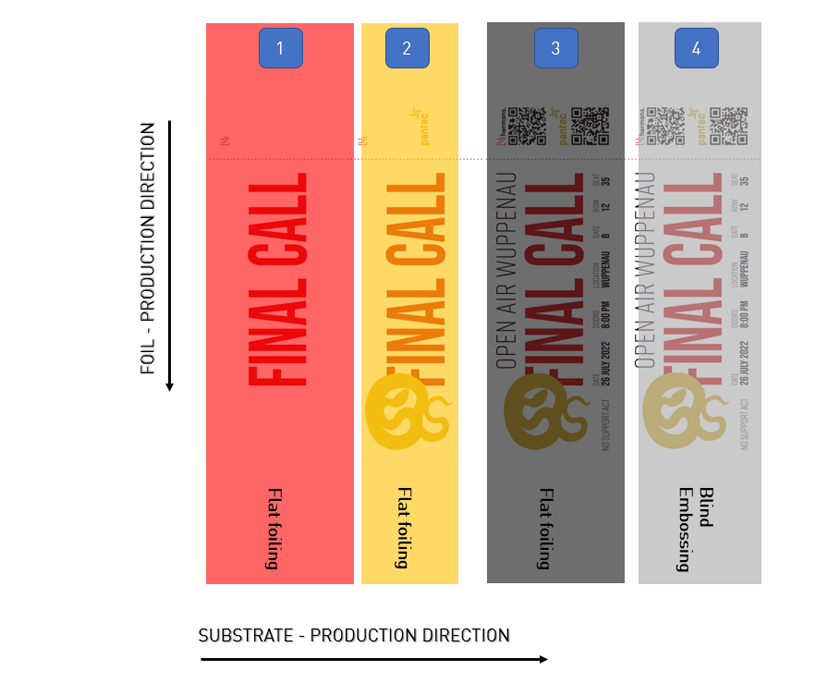 | | | | | |
| --- | --- | --- | --- | --- |
| | Stroke 1 | Stroke 2 | Stroke 3 | Stroke 4 |
| Foil Type | Kurz MTS - 392 (red) | Kurz MTS - 428 (gold) | Kurz MTS - 392 (black) | Kurz - 93324 (transparent) |
| Application | flat embossing | flat embossing | flat stamping | Blind embossing |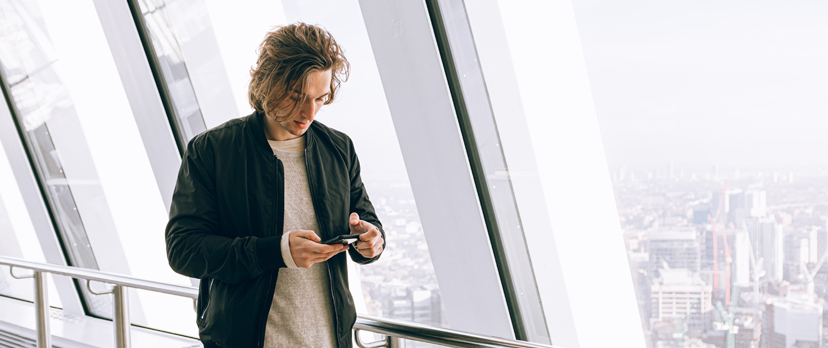 Experience the design and haptic effect of highly embellished labels and packaging.

Request your free Pantec sample package today so that you can "grasp" the opportunities offered by embellishments in the truest sense of the word as early as next week.