RHINO™ series
Flat embossing directly in the line
The RHINO™ series brings the quality of sheet fed hot foil embossing, attractive patch placement for prestige markets and hologram stamping for security into narrow web presses.
RHINO™ series

- benefits at a glance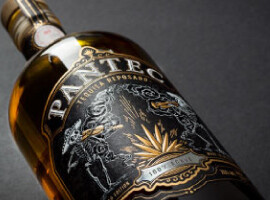 Leading technology for brilliant decoration
Perfect stamping results on uncoated, structured papers due to high stamping pressure and zero tolerance foil embossing (no flattering of the paper)
Crisp, high embossing that lasts
Longer dwell time, lower temperature, higher brilliance
Small cost effective tools: quick setup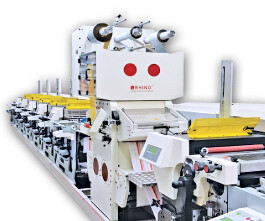 Consistently designed for in-line performance and economy
High frequency stamping for high press speed (up to 30´000 strokes/h)

Small, cost effective tools – Quicker job change - No format parts

Multifoil designs, fast running single pass with multi-stroke foiling across

Two foil saving pattern optimize foil saving

Significantly reduced time to deliver and reduced waste compared to offline embellishment
Flatbed technology for hotfoil stamping allows simultaneous foiling and embossing on the same tool for absolute perfect register even on structured, uncoated papers like wine or spirit labels. The Pantec RHINO™ provides flat bed technology with an outstanding machine performance of 25´000 strokes per hour. Combined with the revolving foil head which allows the application of several foils in multi-step mode, RHINO™ is an extremely powerful embossing machine able to produce outstanding refining effects with multiple foils and embossing effects in a single machine pass.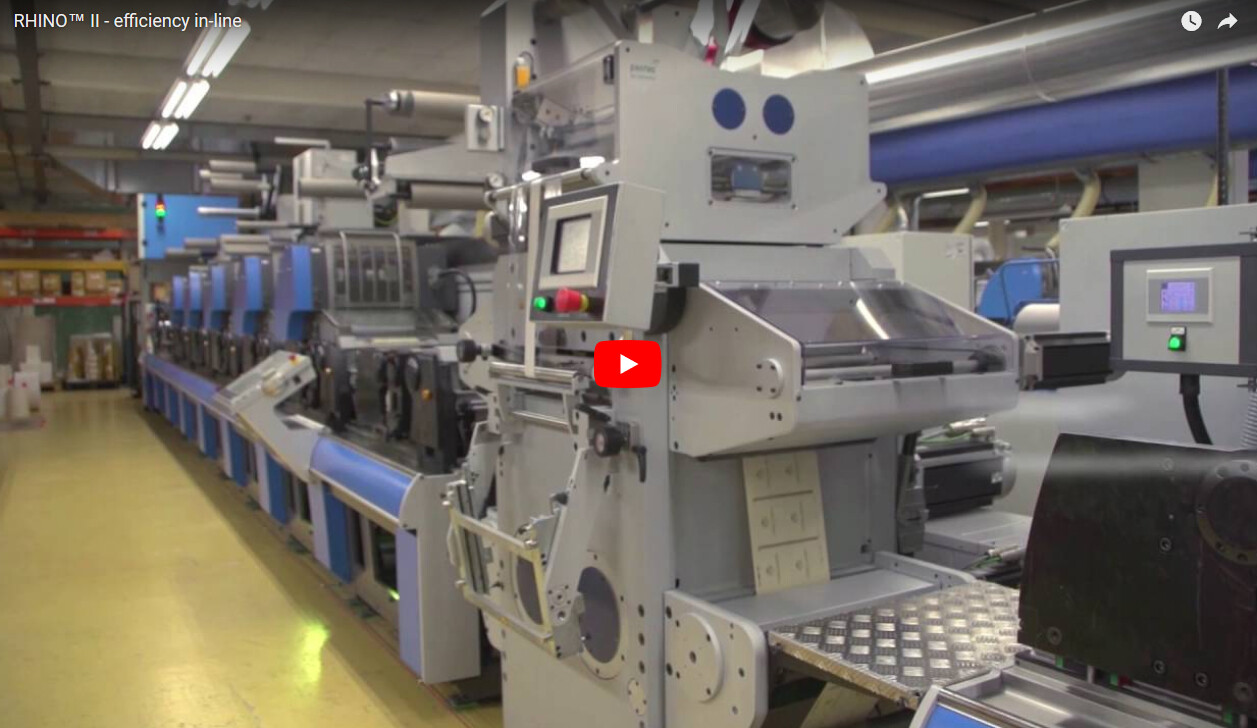 For privacy reasons, we do not offer the playback of the video directly on our site. By clicking the button you will be redirected to Youtube. Please note that this will transfer user data to Youtube or Google. Read more about our privacy policy.
The new RHINO

™

IIS

– 70% higher productivity

RHINO™ IIS is the latest and most powerful of the RHINO™ series, providing a 70% increased productivity compared to seven years ago when RHINO™ I was introduced. RHINO™ IIS has a 410 x 410 mm stamping area, revolvable head, 30'000 strokes per hour, registered hologram streams and 6 independent heating zones. The pay back inline is multiplied by the higher usage of the entire press. RHINO™ IIS comes with electronic impression control and higher tonnage.




With RHINO™ II 250L, Pantec offers the ideal machine to start with. With 250 mm embossing length, the machine fits perfectly for typical 2 stroke wine and spirit label designs. The system is upgradeable to RHINO™ IIS 410 as business and requirements grow. The 330 mm wide RHINO™ 330W fits for semi-rotary machines. With 20'000 strokes per hour and a stamping length of 410 mm its suitable highest complex designs and small jobs.
RHINO™ series

- product overview
Product name
Operates perfectly in
Embossing (stamping) Width max
Embossing (stamping) Length max
Web width, max.
Number of Strokes max / hour
Number of Strokes max / sec
Speed, mechanical max.
Embossing Force max
Electrical Heating, # of zones, max Temperature
Hologram streams across max
Foil width
Foiling Head Direction
Hologram insetting
Complex multi stepping
Foil Embossing
Substrate suitability
RHINO™ IIS 410
Rotary machines
410 mm
410 mm
420 (435) mm
30000
8,3
150 m/min
60 tons
6 / 180 °C (356F)
2
20 .. 420 mm
revolving
✓
✓
✓
Labels, papers
RHINO™ II 330W *
Semirotary machines
330 mm
410 mm
350 mm
20000
5.6
30 m/min
40 tons
1 / 150 °C (302F)
2
20 .. 420 mm
fixed / crosswise
✓
✓
✓
Labels, papers
RHINO™ II 250L *
Rotary machines
410 mm
250 mm
420 (435) mm
20000
5.6
84 m/min
30 tons
1 / 150 °C (302F)

2
20 .. 260 mm
fixed / crosswise
✓
✓
✓
Labels, papers
RHINO™ II 510
Powerful 510 mm flat
bed embossing system
for carton, labels and
paper. Contact us for
details.
*RHINO™ II 250L and RHINO™ II 330W can be upgraded on site to the RHINO™ II 410 with 25'000 strokes/hour and 50 tons stamping force.
Contact us for further information.
RHINO™ multistroking

- crosswise foiling for multifoil designs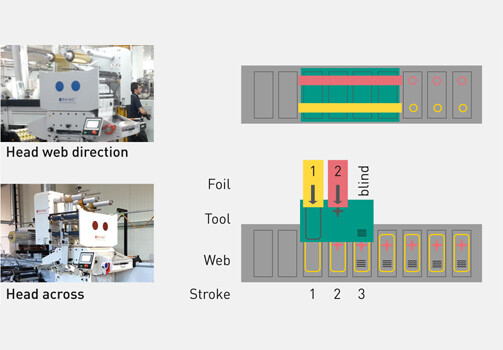 The foil head of the hot foil embossing and patch registration system RHINO™ is either fixed in crosswise direction (RHINO™ I 330, RHINO™ I 250) or can easily be rotated by 90 degrees for the foil to be applied both in length- and crosswise direction (RHINO™ II 410, RHINO™ I 410).

If the foil is fed to the web crosswise, multiple foil colors can be embossed successively in a single pass as it is illustrated in the picture.
In addition, multistroking means that the web can be embossed in several small steps. The web forward feed is not for the full tool length in a cycle, but just a fraction of it. So several strokes can be done on one single tool.
In doing so, the embossing can be applied one on top of the next, which enables the production of unique designs in a single printing process.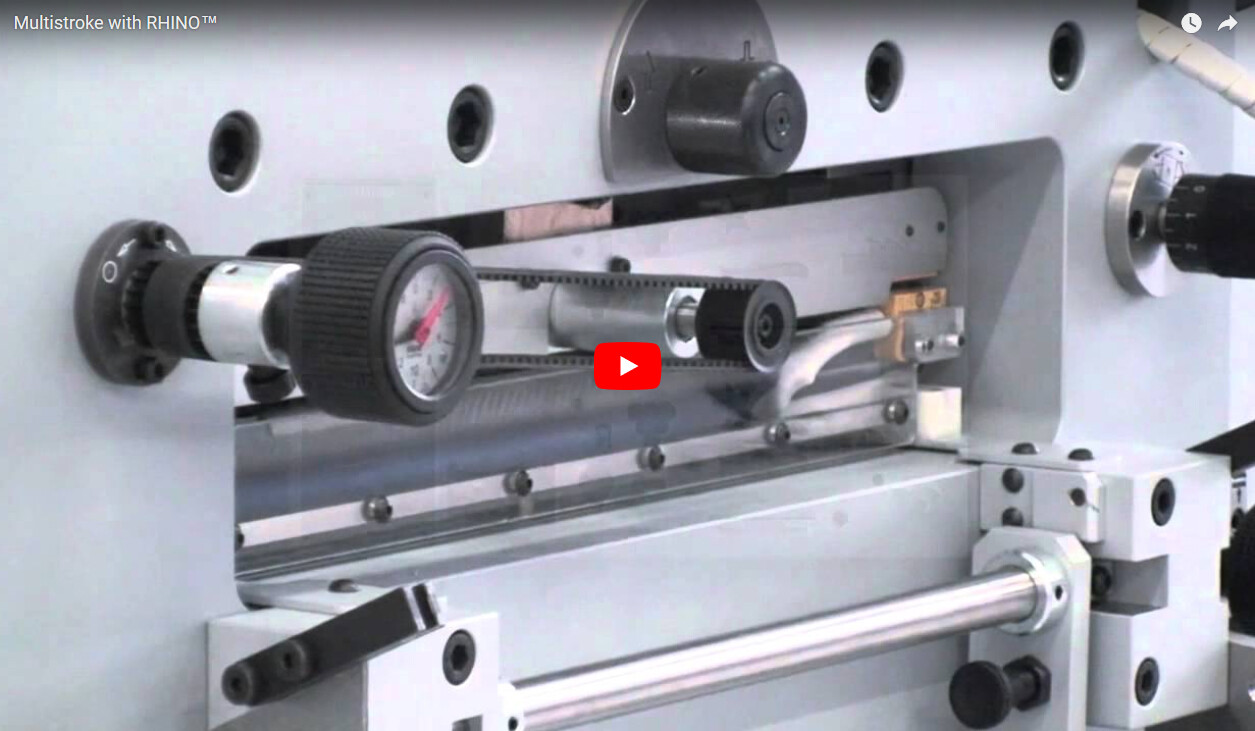 For privacy reasons, we do not offer the playback of the video directly on our site. By clicking the button you will be redirected to Youtube. Please note that this will transfer user data to Youtube or Google. Read more about our privacy policy.
RHINO™ market penetration

- integration into almost any web press

Over 20 years of experience in the integration of embellishment and finishing modules with rotary and flat processing allow us to integrate our machines into practically any rotary and even semi-rotary presses. Still, every new integration is carefully analyzed and performed in teamwork with the press manufacturer.
RHINO™ integrated to:
Gallus RCS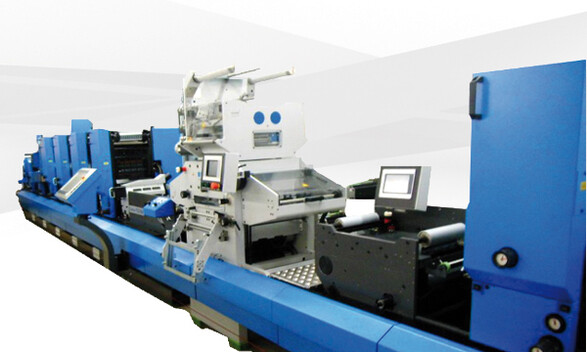 RHINO™ integrated to:
Gallus TCS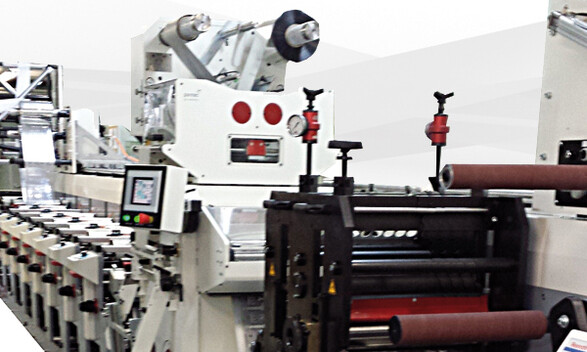 RHINO™ integrated to:
MPS EF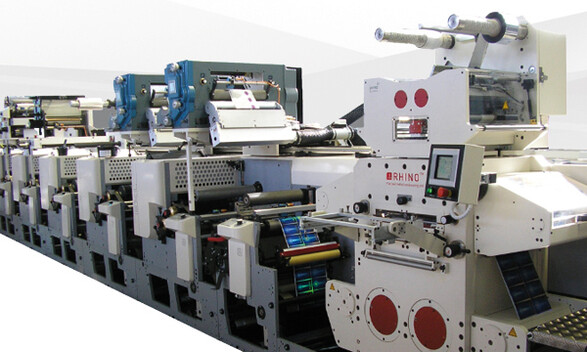 RHINO™ integrated to:
MPS EXL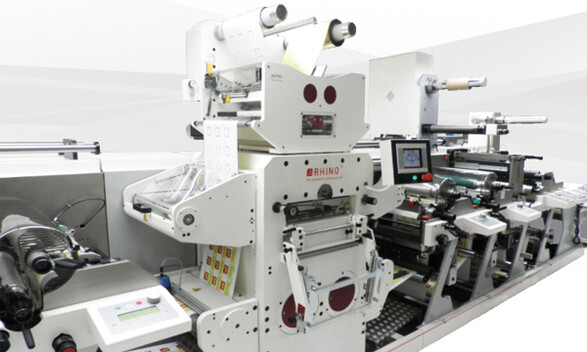 RHINO™ integrated to:
Nilpeter FA4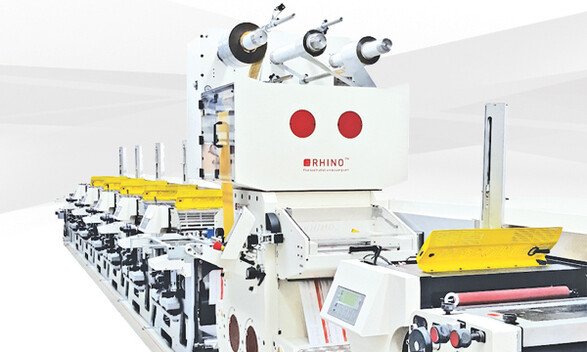 RHINO™ integrated to:
Nilpeter MO4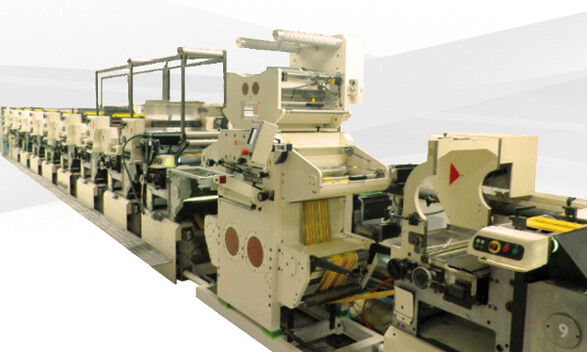 RHINO™ integrated to:
Nilpeter M3300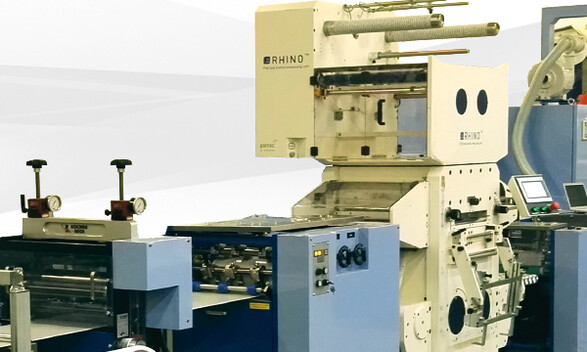 RHINO™ integrated to:
MYAKOSHI MLP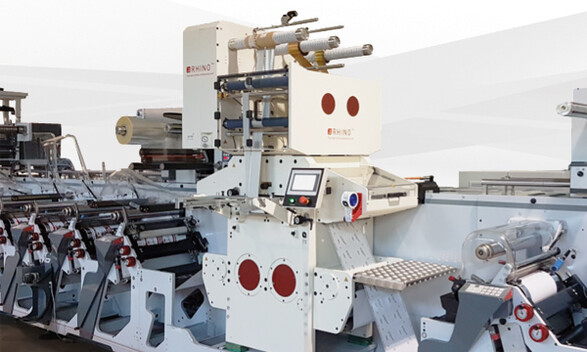 RHINO™ integrated to:
OMET XFLEX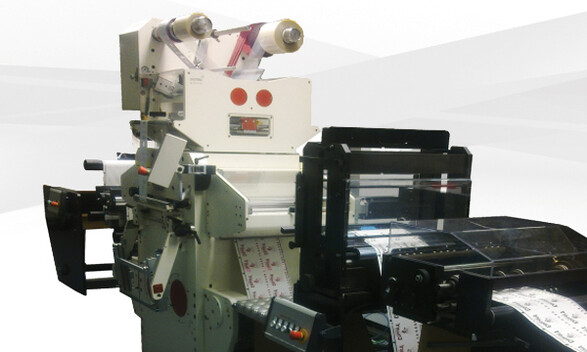 RHINO™ integrated to:
ROTOCONTROL