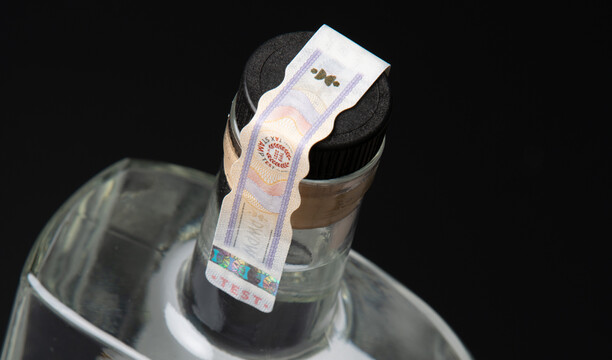 Continuous application of holographic tax stamps with flat bed technology creates great advantages
Tax stamps secure tax revenues for the goverments. They are applied to consumer goods to confirm the payment of the tax to the relevant authority by the manufacturer. However, tax stamps perform much more: they protect consumers from counterfeit products and ensure the reputation of manufacturers on the market. Pantec's flat bed technology offers the possibilities to apply such tax stamp most efficiently.
Customers' request as an initiator
Recently, a RHINO® customer from North Africa contacted us to find out whether it would be possible to apply holographic foils with flat bed technology running in web direction. We took this inquiry as an opportunity to look into the production of tax stamps in detail. During this process, we found opportuinities to optimize some process-related aspects.
We developed a process to apply holographic stripes along and across the substrate with a web speed of up to 150 m/min with the RHINO®. Our customer in North Africa has in the meantime switched to the RHINO® flat bed technology for all its tax stamp jobs.
Tax stamp application: traditionally rotary - why move to flat bed?
Traditionally, tax stamps are applied with rotary machines, because it is very demanding to use flatbed technology. There a basically two problems to be solved:
the holographic foil must be applied without wrinkles.
no holograhpic foil should be wasted and the individually applied stripes must overlap precisely to form a continuous pattern.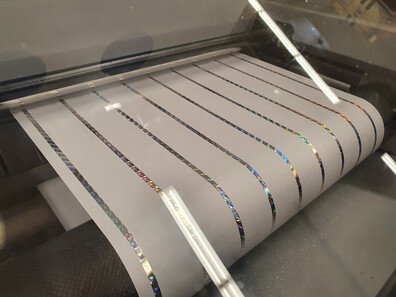 Pantec RHINO® - foil utilization up to 95 %.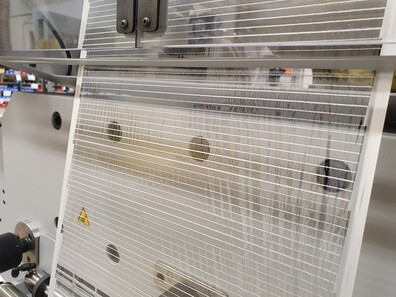 Once these challanges are overcome, flatbed technology offers great advantages over conventional rotary stamping. One of them is the high speed of up to 150 m/min and a foil utilisation of over 95%. Flat bed technology achieves excellent results on all substrates, coated and non-coated. Furthermore, the tooling costs are only one fifth of those for rotary technology.
The setup of flatbed machines is also much easier compared to rotary machines. With rotary machines, several foil rolls are clamped, whereas only one foil roll is required with the flatbed machine.

Flat bed applicaton of tax stamps with RHINO® - benefits at a glance
Production speed of up to 150m/min
Applicable on open and closed substrates (also substrates with watermarks)
Fewer machine stops due to less frequent change of foils
Easy setup of the RHINO® flatbed stamping tool
Tax stamps can be enhanced with additional security features, only possible with the flatbed technology
Quick changeover from running along to across the web
Efficient stamping of stripes across and along the web
In certain cases, it is required to apply the foil across the substrate. This can easily be done with the RHINO® by rotating the foil head 90°.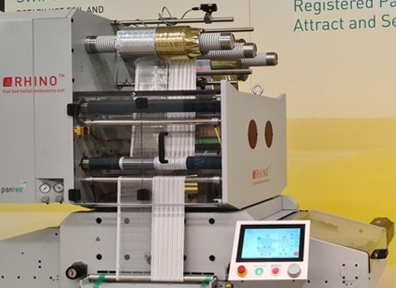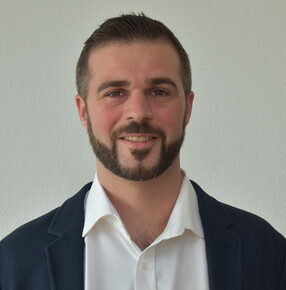 "Flatbed technology enables higher productivity in the application of holographic foil on tax stamps, allows stamping on open and closed substrates and impresses with the application of additional security features such as nanoembossing."
Philipp Fatzer
Head of production and service
Adding additional security features in a single pass
The flatbed technology offers not only the most efficient process to apply tax stamps, the RHINO® can also add additional security features such as nano- and microembossing, even in combination with a standard hot stamping and/or holographic foil. The so-called 'Multi-Stroke Function' of the RHINO® gives you the possiblity to produce these different security features in one pass - increasing your efficiency even more.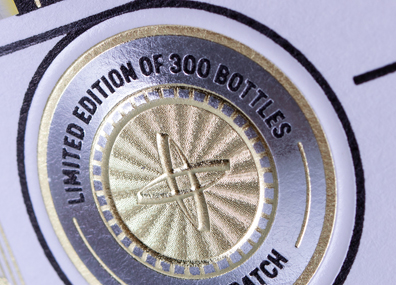 Security patch with foil microembossing, based on a holo lens, with gold and transparent foil, applied in flatbed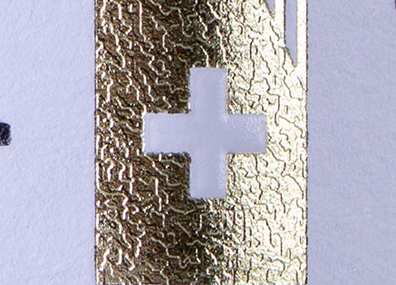 Nanoembossing - distortion of the metallised surface of the substrate during the stamping process creating impressive, optical reflection effects.
Tax Stamps Projects
Based on the acquired know-how in the field of tax stamps, we have implemented the possibilities of flatbed stamping in two further projects.
Demo Sample "Pantec Tax Stamp"
We created our own "Pantec Tax Stamp" to be shown at the Tax Stamp & Traceability Forum in Malta. We designed the label with the idea to be able to print it as a basic version with holographic foil only or to add a nano-structure as additional security feartures.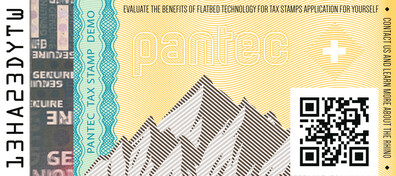 Basic version with holographic foil only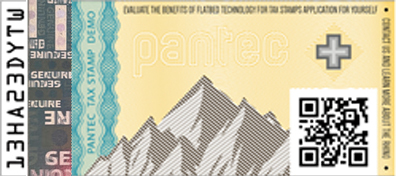 Basic version plus nano embossing - 2-stroke Design
Nanoembossing is the deformation of the substrate surface during the embossing process, resulting in special optical effects. This creates an additional security feature that makes it much more difficult to copy the tax stamps.
The application of holographic foil and nanoembossing takes place in two steps, but in one machine pass.
Pantec Tax Stamp - Multi stroke
Stroke 1: Application of holographic foil
Stroke 2: Foil & nanoembossing
With the first stroke, the holographic foil is applied. With the second stroke, the crosses are enhanced with a gold-colored hot stamping foil and at the same time, a nano-structure is embossed into the hot foil to add a further security feature.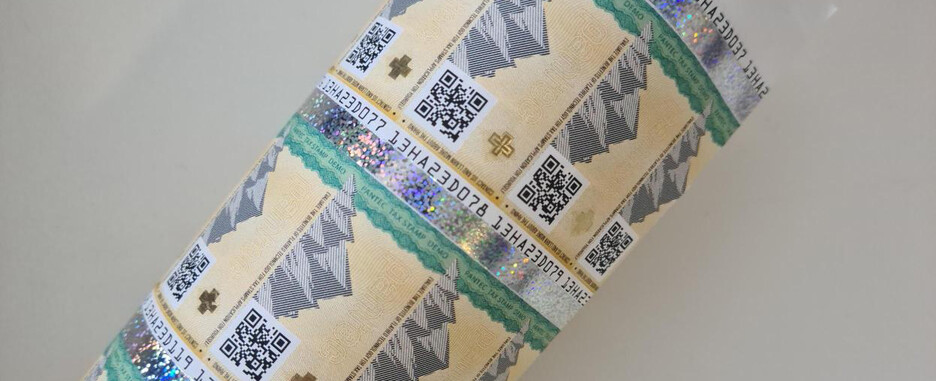 Function meets design: tax stamp with holographic foil, gold embossing and complementary nanostructure.
Cooperation project with the Polish State Printing Office
Our customer, Polish Security Printing Works S.A., requested us to run a test tax stamp production with their RHINO® S 410 at their factory. The design was specified by the customer.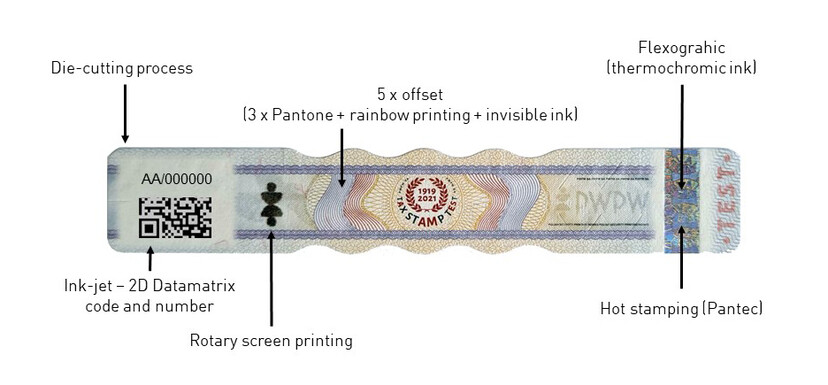 Overview of the security features applied
The holograpic foil was applied lengthwise, using Kurz Holo Cirvle AL-OLT-12 foil. The foil itself however, ran across the web to achieve the highest possible foil saving.

RHINO® - stamping lengthwise, foil across the web
Over 17,000 linear meters of watermark substrate with an open surface has been stamped with one roll of holographic foil of approx. 2,000 linear meters only. During the production, the foil did not have to be changed at all and no foil break happened.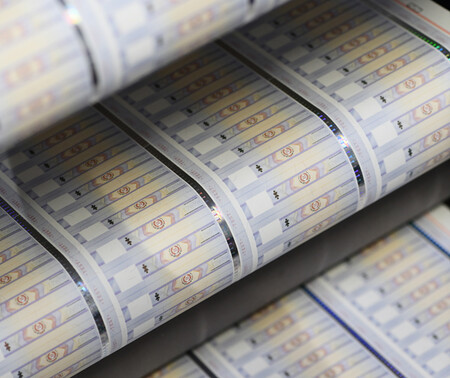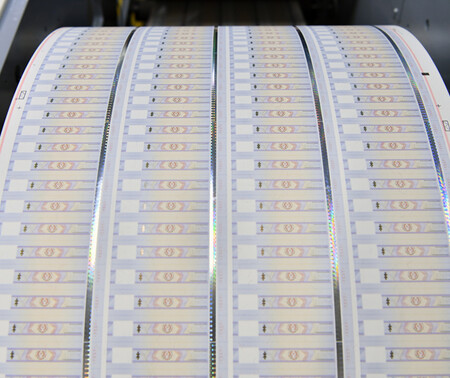 Various printing techniques complementing the applied hologram stripes
With web speeds of up to 150 m/min, high foil utilization and inexpensive tooling, RHINO® is the ideal system for applying tax stamps and offers the option to add additional security features.
RHINO® flat bed embossing system applying holografic stripes in length direction
RHINO® flat bed embossing system applying holografic stripes across the web
Use the efficiency of flat bed technology for your security applications
You want to see examples of security features applied with flat bed technology?
You want to talk about your reuqirements?